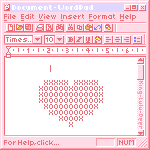 bazinga!!!

my name is min! people in real life call me becki. i'm a silly little fella making silly little art. i'm the creator behind kimberly and the gang
this comic is about a cast of teenage chimeras assigned to protect the world from monsters! can they do it?!?!?! can they save humanity once and for all?!?!?!
a good amount of the cast was created in 2013 when i was an even sillier, littler fella. but they didn't have any sort of original story until 2018. which is NOT CHIMERA KINGDOM or anything close to that, but it was a decent foundation for my ocs because the initial story idea helped build on who they are now. i called this site "kimberlyandgang" because i like to be flexible and have fun with the characters and their stories
outide of CHIMERA KINGDOM, i made two other comics: of starry storms (2016-2020) and misaki dreams (2020). feel free to read them if you want. they're both school life/slice of life comics, so they're both pretty different from this one
fun fact: atticus is the only character in this comic that doesn't originally belong to me. he's a friend's!
genres: sci-fi, dystopian fiction, adventure, comedy, romance, psychological
status: under production